All the President's Men with guests Attori


On Sunday 12 February the Jazz Club opened the doors for 2017 with a wonderful entertaining night featuring a Valentine's Day theme. The décor set the scene with an artistic display of red and white balloons plus table and wall decorations. Many of the guests dressed in red to further enhance the theme of the night. All the President's Men were in fine form with Larry, Les, David, Doug, Bob and joined by Ken on drums performing a fantastic program of music to suit all tastes.
Guest artists Attori added their own special flair to the evening and Rick and Michelle's romantic rendition of "Quando Quando", which also featured a solo by David Salisbury, was definitely a highlight of the night.
The committee should feel proud of their efforts to open the year with a splash! Congratulations, we appreciate all of the planning and energy that you put into producing such a lovely evening. Can't wait till the next entertaining night!
By Debbie O'Donnell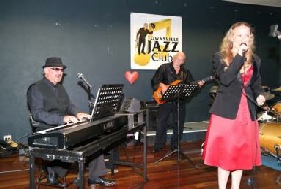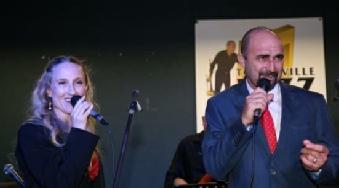 All the Presidents men Attori
The first night for 2017 with our own Pacific Mainstream Jazz Band was promised as a toe-tapping evening where everyone would be up dancing. How true that was! The band distinguished itself with a wide selection of music to keep us all jumping.
There were a very large crowd of members and guests who made the most of the very
danceable music where the tempo was both fast and slow. Some felt they were out of practice as the beat grew faster but went back to the fray after a short rest.
Les' crooning kept the audience entranced through numbers such as Moon River, Let There Be Love, All of Me, Mac the Knife and C'est Magnifique A few hoped for Watermelon Man but that did not feature. (maybe next time). The usual gang were there, including Nev in his signature bowler. It was good to see Scott Jorgenson there on base and to welcome new 1RAR import, Haydn Dare on trombone. We hope Haydn will join us again.
There seemed to be a number of visitors or hopefully new members, some from a younger generation. Please come back and bring your friends. We were pleased to welcome a group from the Swing Club, who dance in various venues on most nights. Please come back and join us again.

By Judy Hunter
Pacific Mainstream Jazz Band, led by Les Nicholson on trumpet, introduced a couple of changes to the line up! Bob Passmore returned to playing soprano sax and Scott Jorgensen came into PMJB to replace Bob on bass. Welcome to this wonderful band Scott. Other foundation PMJB members are still there – John Ruffle (piano), Neville Minon (trombone) plus regulars Oscar Smith (guitar & banjo) and Richard Juszczyk (drums). Joining the band as their guest for the evening was Hayden Dare (trombone).
********************
PACIFIC MAINSTREAM JAZZ BAND (PMJB) 26.02.17