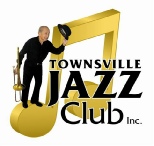 Pacific Mainstream Jazz Band 28 February. John Ruffle - piano, Oscar Smith - guitar & banjo,
Maureen Wallace - bass, Neville Minon - trombone, Richard Juszczyk - drums, Les Nicholson - trumpet,
Yuri Leschenko - sax & flute.
We were invited by the delightful Judy Hunter to come along to the Aitkenvale PCYC to hear the Pacific Mainstream Jazz Band led by Les Nicholson playing New Orleans Jazz.
What a cool fun way to spend a Sunday evening! The moment we entered we were transported to another world – a world of New Orleans jazz music and dancing. What a pleasure to listen to the sounds of PMJB, a pleasing trad jazz group composing 7 talented musicians (trumpet, trombone, clarinet/sax, contrebasse, drums, guitar and piano) and singers. They played for 3 hours between 6.00pm and 9.00pm with regular breaks; during the evening guest musicians/singers were invited to do a sit-in bracket with them. PMJB certainly know how to get people up dancing!
Wendy and Dany.
What a wonderful start we've had to our year of Jazz! Opening Night Valentines Theme seemed very popular with everyone and it was great to see so many people get into the mood and dress in red. I think we are all 'big kids' at heart and we love any excuse to dress up. I know I do! Thank you to all those people who turned up earlier in the afternoon to help decorate the hall. You did a great job!
All the President's Men excelled once again and entertained us with wonderful music such as I've Got My Love to Keep Me Warm, It had to be You, How High the Moon, Secret Love – just to name a few: All great numbers and old time favourites. What about our vocalist, Jennifer Cooke? She was like a breath of fresh air and I am sure everyone enjoyed her vocals and singing style.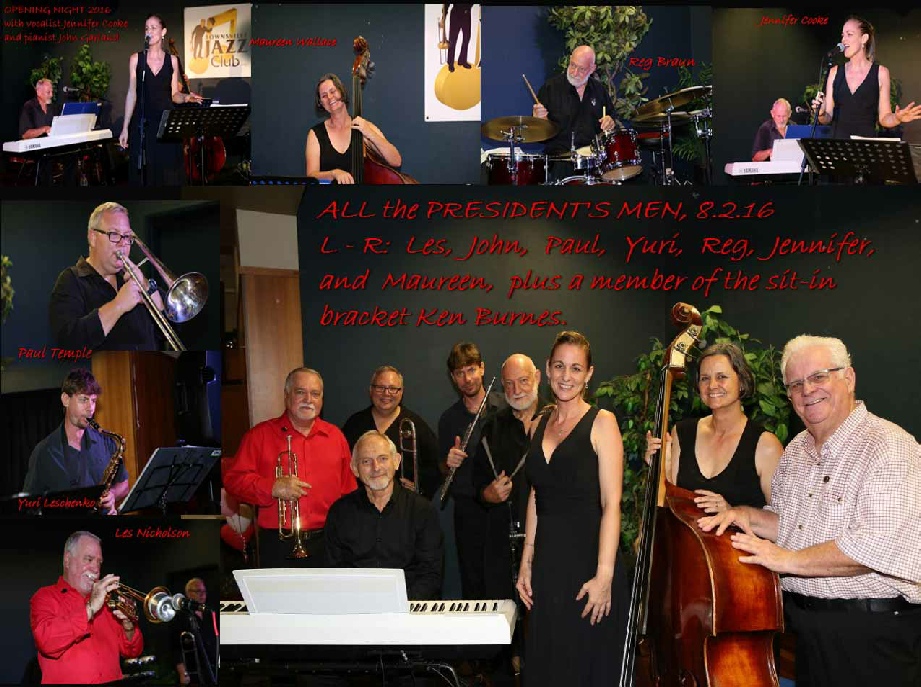 To hear the Jazz Preachers and Mumbles Blues click play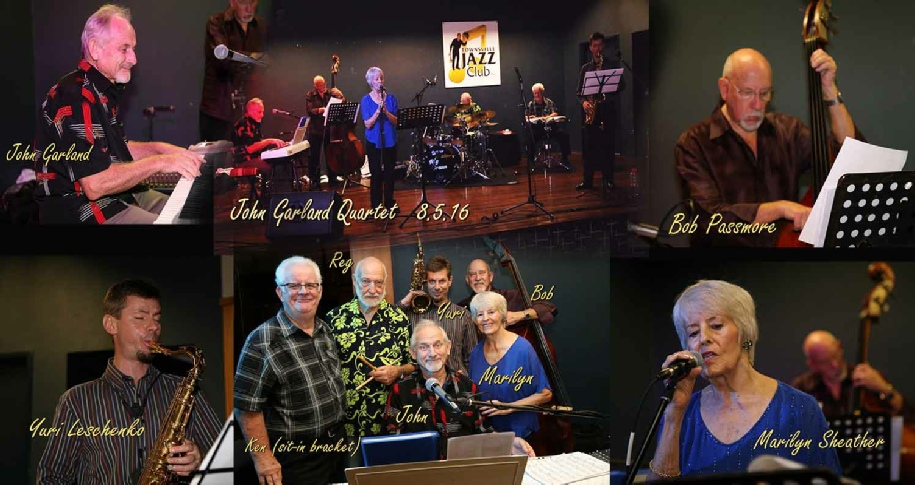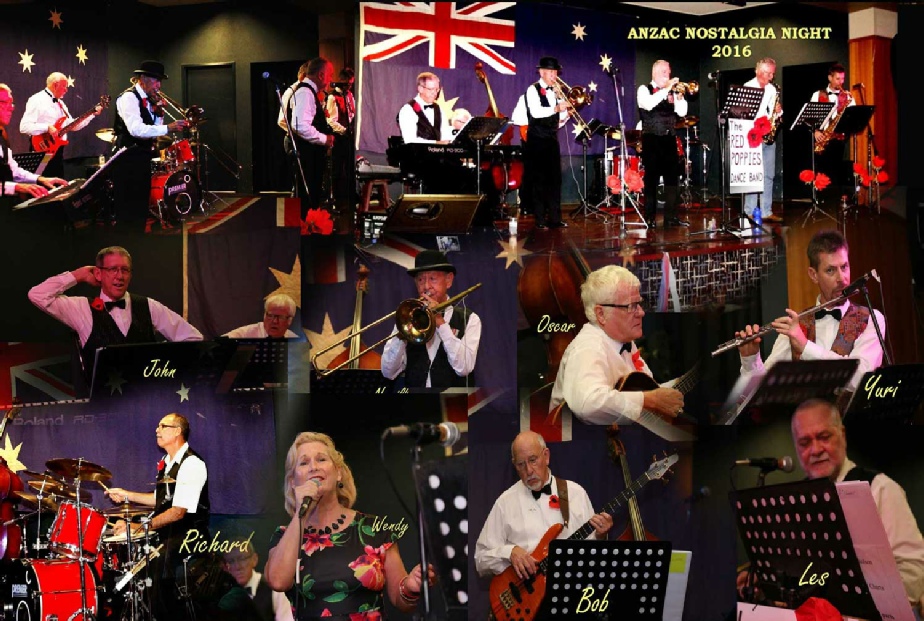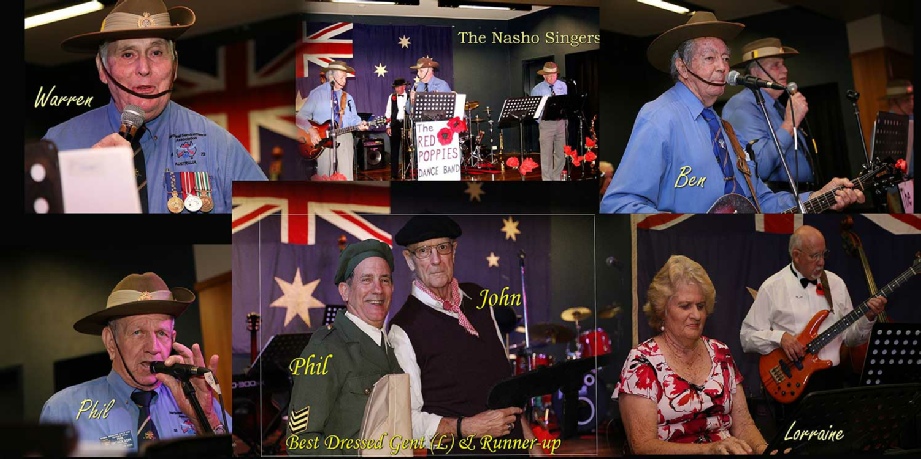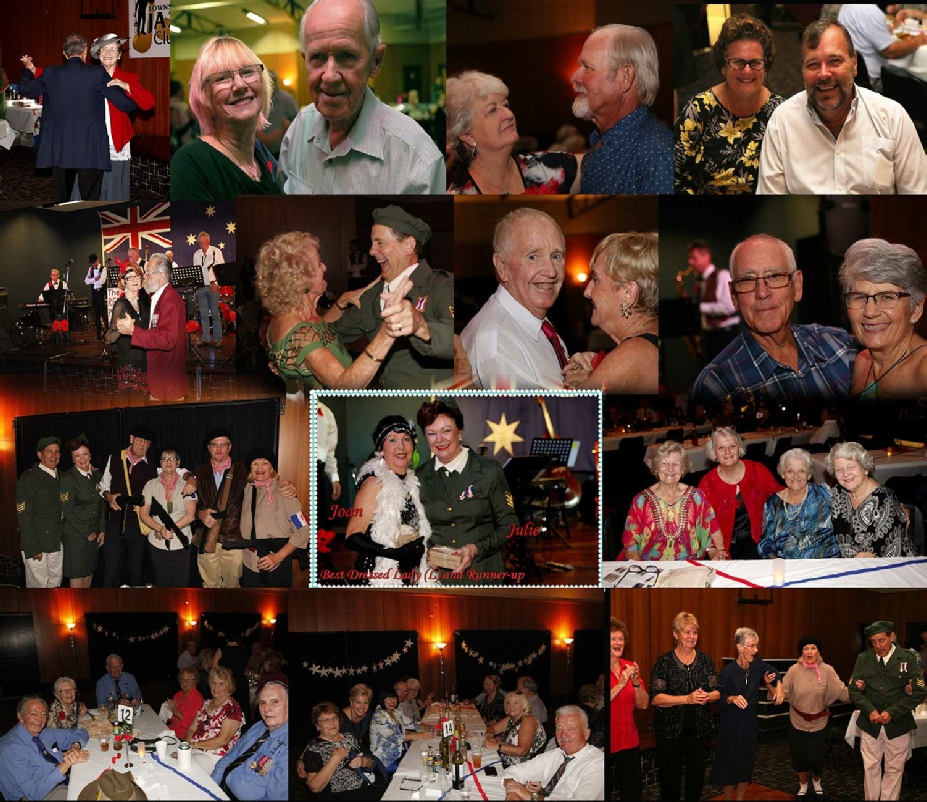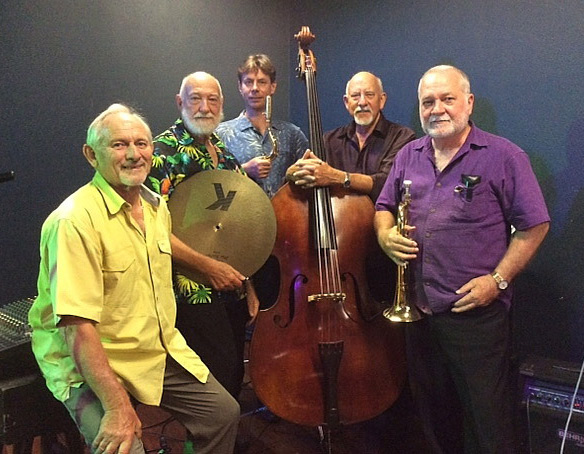 JOHN GARLAND QUINTET 09.10.16

L-R: John Garland, piano
Reg Braun, drums
Yuri Leschenko, sax
Bob Passmore, bass
Les Nicholson, trumpet.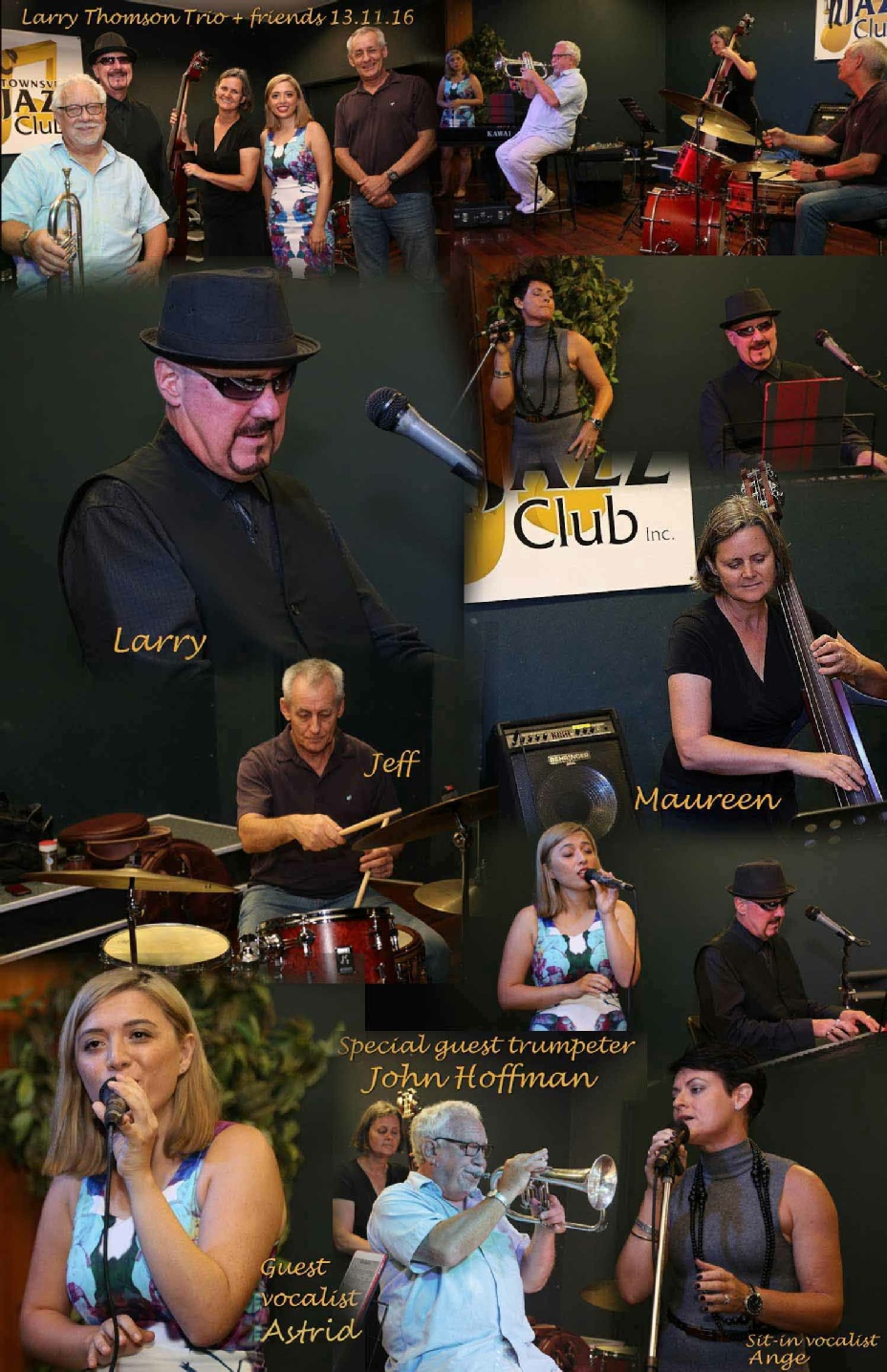 LARRY THOMSON TRIO plus friends, 13.11.16

On the 13th November club patrons were given an unexpected treat when the Larry Thomson Trio expanded to a quintet! The trio comprised, Larry on piano and vocals, Maureen Wallace on bass and Jeff Lotze on drums. Local vocalist Astrid Jorgensen was booked for the evening changing the line up to a quartet. But Larry had also arranged for one of Australia's finest jazz trumpeters, John Hoffman (currently lecturing in Jazz Studies at Qld Conservatorium, Griffith University), to join the band as a special guest. The Larry Thomson Trio was now a quintet!
Larry wanted John's appearance to be a surprise and this it was! As not even the committee knew that John was coming, this great jazz musician's visit to Townsville was not given any publicity that a guest artist of his calibre deserves which was embarrassing for the club. Let's hope that next time John is in Townsville the club will be given adequate notice so that our members, plus the general public, can be given the opportunity to come and hear him play.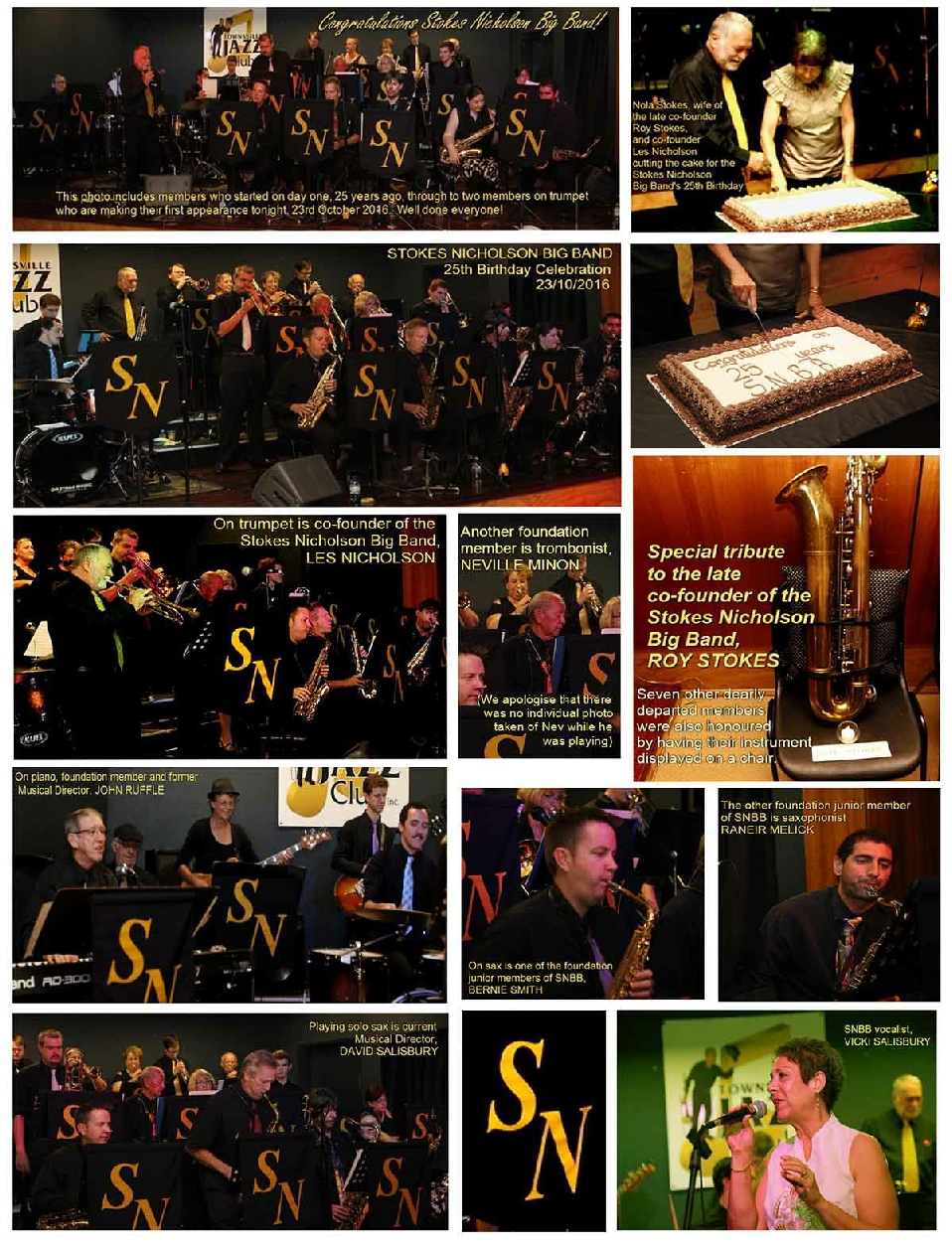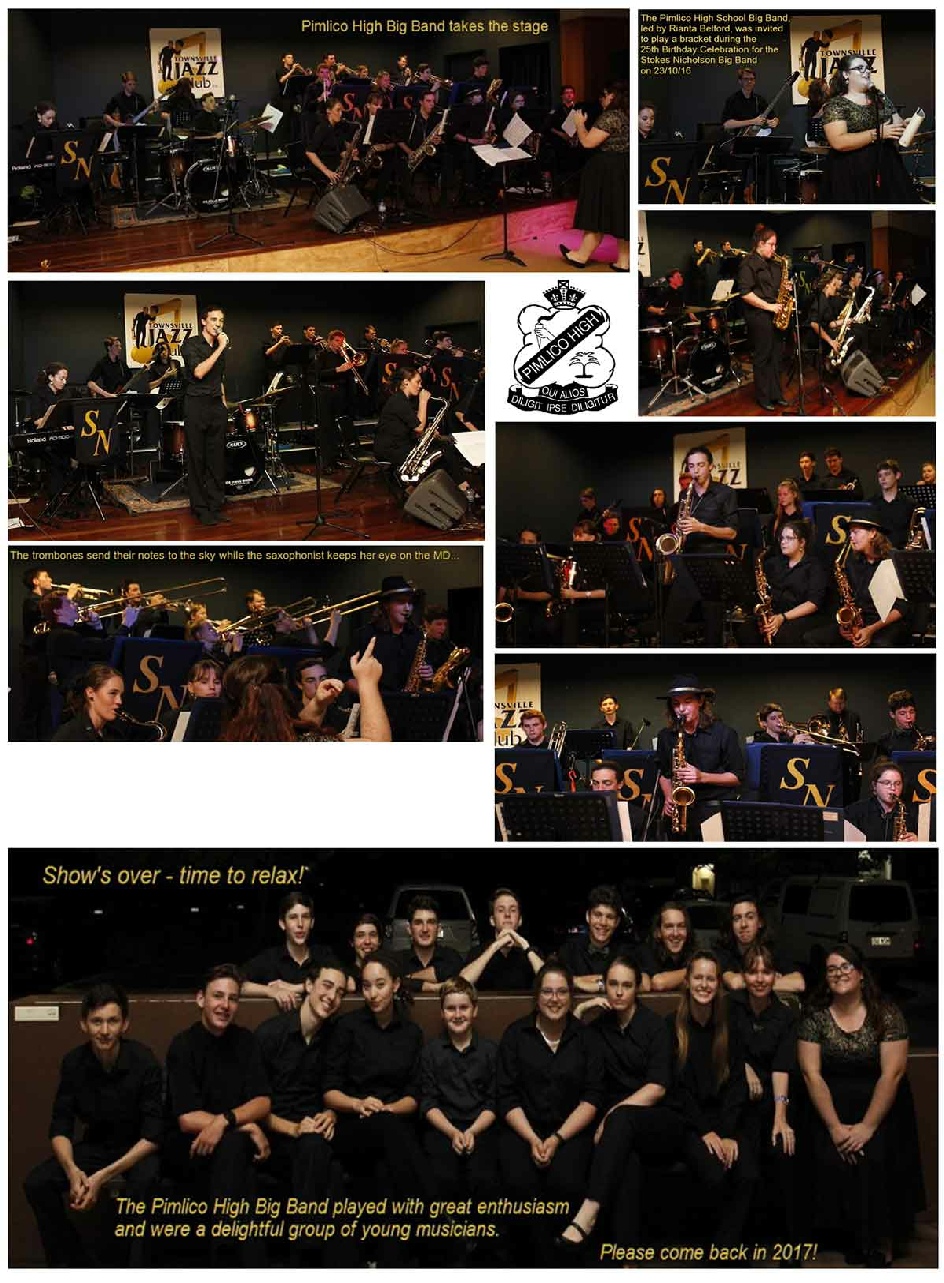 STOKES NICHOLSON BIG BAND 25th Birthday Celebration 23.10.16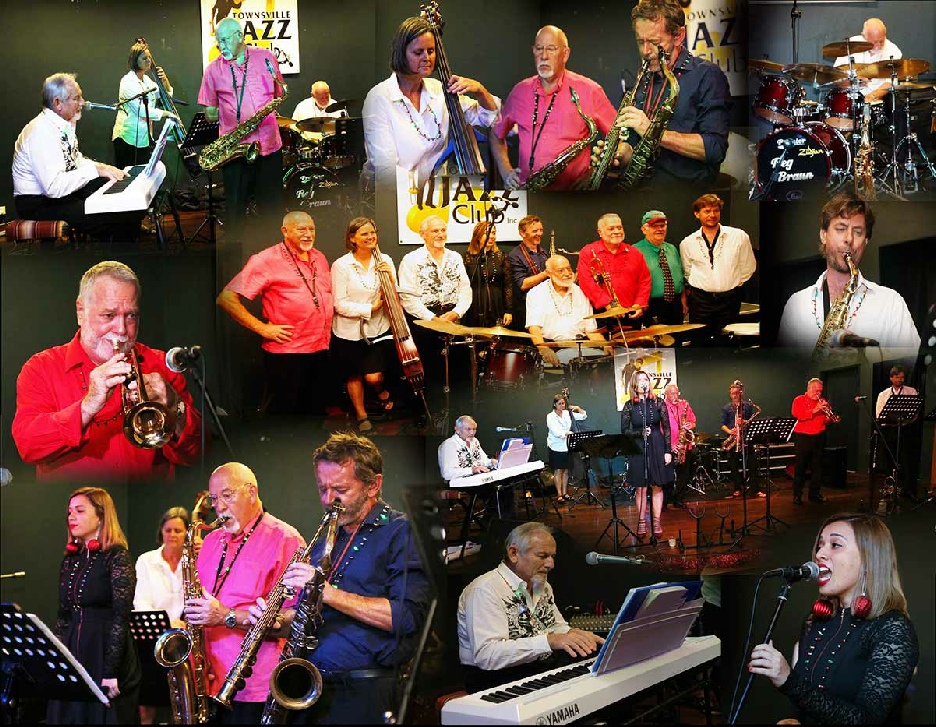 Christmas party 11 December All The Presidents Men
Les Nicholson Trumpet, Bob Passmore Saxophone, ??????????? Saxophone, Yuri Leschenko Saxophone,
John Garland Keyboard, Maureen Wallace Base, Astrid Jorgensen vocalist. Ken Burnes Bongo's.
A Review by Rob Bray & Megan Campbell


Can't believe it's Christmas already, and the end of another great year of music, dance and entertainment at the Jazz Club. On entering the Barbra Bricker Room we were greeted with flashing Christmas lights and not just the decorations, the Band and Club members were all flashing too. It really is Christmas and every one was in the Christmas mode. Tonight's band, All The President's Men were in fine tune delivering a range of easy listening to toe tapping rhythms, and the dancing members of the club made good use of the new extended dance floor area. To add to the night's entertainment the band was joined by vocalist Astrid Jorgensen. Not sure where Astrid has been singing in the past but she is always welcome at the club. Jac and Jo catered for the night's event, serving up a fine selection of taste bub delights as usual. Combine this with the music, dancing and singing, what a way to start the festive season!
On a sad note, as the evening drew to a close, we end the year by having to say good bye to two of our regular band members, Yuri Leschenko and Maureen Wallace who are both moving south for work commitments. We will miss them both and wish them all the best for their future. Please come back and visit us !!